Why should I have my carpets professionally cleaned? The problems and health threats associated with poor indoor air quality have become extremely widespread. It's no wonder. The average person spends 90% of their time indoors. Every time you walk into your house, you bring in pollutants of all kinds with you. Indoor air is usually 10 to 100 times more polluted than outside air. This is largely because indoor air is trapped and rarely gets completely replaced. Outdoor air on the other hand gets blown away and new, cleaner air replaces it. Carpets improve indoor air quality by acting as a wonderful filter, trapping all those pollutants brought in from the outdoors (soil, pollen, mold, air pollution, bacteria, fungi, carbon monoxide etc.) and those caused by indoor living (animal dander, dust mites, crumbs, juice and soils of all kinds), preventing them from becoming airborne. It is important to realize, a thorough hot water deep extraction cleaning regularly on that filter (carpet and fabrics), clears your home of these pollutants and toxins and allows you and your family to Ace.
How often should I have my carpets or upholstery cleaned? The frequency of which you should have your carpets or upholstery cleaned varies, depending on factors such as the amount of foot traffic, your lifestyle and environmental factors. The Environmental Protection Agency has created the chart below for you to use as a guideline on how often to have your carpets cleaned.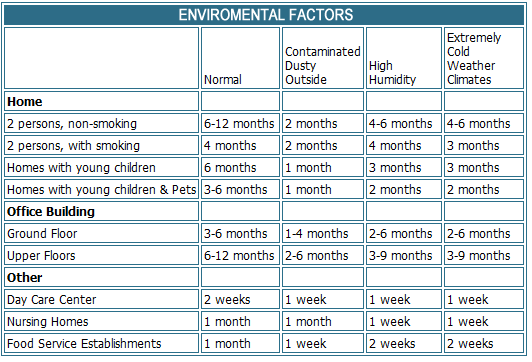 Why can't I just rent a do-it-yourself machine? Thorough carpet cleaning requires expertise and professional equipment. First of all, store-rented or home "steam cleaners" lack the suction power and sometimes the high temperature needed for a proper deep clean. These have a tendency to leave shampoo on the carpet fibers, which causes rapid re-soiling and also can result in irritation to people and pets. Secondly, these machines usually leave a large volume of water behind, and left in the carpet, can lead to formations of microbial growth (mold) and bacteria in as little as 24 hours.
Why do my spots keep coming back? The first reason could be re-soiling. This often occurs when detergent or cleaning agents were used, and not thoroughly extracted. This residue will act "sticky" and will actually attract more soil.
The second reason is wicking. Many times, the spot that is being removed has seeped into the backing of the carpet. This is common with pet urine, beverages, and anything that is spilled in "volume". The material dries in the backing and the pad of the carpet. When the spot is cleaned, only the material in the "pile" of the carpet is removed. However, moisture is introduced into the backing of the carpet. As the spot dries, the material that is in the backing of the carpet wicks back into the pile.
Ace takes care to eliminate the problems of re-soiling and wicking as much as possible. We use the most thorough method of cleaning to ensure that all pre-sprays and cleaning agents are thoroughly rinsed and removed from your carpet so that no residue is left behind and your carpets are left with very little moisture in them.
Do you clean berber? Absolutely, berber is a weave, not a particular type of fiber. Berber is simply a type of loop construction that may come in olefin, nylon, wool or a blend. Berber requires more thorough cleaning than many other carpets because the "flushing" action needs to take place to get under, around and through the loops.
Do you clean wool? Yes, we have special products that we use for wool. We use lower pressure, lower temperature and take special drying precautions for cleaning wool.
How long will it take for the carpet to dry after cleaning? Our typical drying time is 2-3 hours, but it will vary according to air circulation, weather, and type of carpet. Often times, your carpets could be dry in as little as an hour.
How soon can I walk on my carpets? We recommend that you limit traffic as much as possible until your carpets are completely dry, as to not re-soil carpets or lay carpet fibers down from there newly cleaned "up" position. If it is not possible to stay off carpets, clean white socks can be worn. An Ace technician can provide booties to be worn, on request.
Do you move furniture? Our regular pricing structure includes moving sofas, chairs, tables, end tables, etc. Beds, entertainment centers, pianos and heavier pieces are left in place under our regular pricing structure. We will clean up to the outside edges of these items. If you would like us to clean under large furniture items, please have these items moved away from the cleaning area before our arrival. If you need help moving large furniture items, this can be done at an additional charge. Please contact Ace prior to your appointment time to discuss this option.
Are your technicians experienced? Yes, our technicians attend courses, seminars, and schools to keep current on the latest in cleaning technologies. They are certified by the IICRC (Institute of Inspection, Cleaning and Restoration Certification).
Does cleaning your carpet make it wear out faster? No, actually dirt acts as an abrasive like sandpaper when trapped in your carpet or fabrics and cuts the fibers, just like a knife. Vacuuming is essential, but it's not enough. Carpets should be professionally cleaned regularly to reduce wear.
Are the products you use safe? Yes, our plant-based products are non-toxic, phosphate free, biodegradable and low in VOCs (volatile organic compounds). They are safe for children and pets and your indoor environment, as well as being environmentally-friendly.